The Graveyard
A graveyard is an important item for any yard haunt. Your graves of the dead can be the simplest and cheapest to do and have the best effects.
The basic yard haunt should consist of:
tombstones

Other excellent methods of making a tombstone
Epitaphs for you to write on your tombstones

body parts
fog
Arranging the Graveyard
Arrange your tombstones in a way that they look like they have fallen over from time. Some straight up and some tilted.
Don't make them in a straight row or line.
Stagger them around.
If you only have a few, spread them out, give them some space.
The Little Extras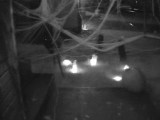 Along with body parts and, of course, cobwebs. I haven't seen too many "how to make" fog machines so that will be one that you would want to purchase also.
Attach cobwebs to any tree or side of your house and then to your tombstones. Get some Spanish moss (also at the arts and craft store) hanging down from the top of the tombstones or laying at the base of the tombstone.
In front of a tombstone, place some of the body parts. A good one is a hand, wrist area stuck in the ground, that looks like it is reaching out of the grave up into the air. Other good body parts are feet that are partially covered with dirt with the toes sticking up. Of course skulls are great just sitting in front or on top of any tombstone.
If any of the tombstones have a fun epitaph, put something that goes with it. For example, an epitaph that says "Ceymore Buttz" and then a pair of old jeans stuffed with the butt side up with the waist and legs looking like they are still stuck into the ground. Get the idea?
If you have garden lights, you can change the angle of the lights to shine into your graveyard. Angle the lights to shine low into the yard or if the lights are real close to the tombstones have then angle up the stone. Work with it a bit. See what works best with the shadows that you can make with the lights. You can spotlight your "masterpiece" tombstone too. Blue light bulbs have a great effect.
Placing some of your pumpkins that you have carved into the graves will give the tombstones the extra glow. They can also be used as spotlights for your tombstones. Make sure there are no cobwebs, Spanish moss, or anything else flammable near any of the flames from the pumpkins. We don't want to set the whole place on fire.
Return to top of Graveyard page
Voila! You have a graveyard!