Ghost Cookie Recipe
Halloween Recipes
I found this Ghost Cookie recipe on the internet probably more than six years ago. This recipe is, of course, one of the best and easiest Halloween recipe that you can make. We make this at every party that we have had.
You can use different food coloring in the chocolate when melting to make goblin toes or ghouls. With the goblin toes, take licorice and slice small pieces in a thin diamond shape to make the toenails. What other ideas can you come up with these cookies?
This Halloween recipe is one of my oldest daughter's favorite.
This is an extremely easy and quick recipe.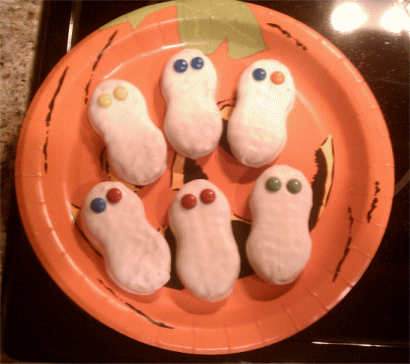 Ingredients
12 ounces of white candy coating, white chocolate or vanilla bark
(I use Candiquik vanilla flavored candy coating)

1 package of nutter butter peanut butter cookies

1 small package of miniature M&M's
(I usually buy a regular size package and set the extras out in a candy dish.)
Preparations
Be prepared for this one. Everything happens pretty fast or the bark will harden before you are done.
Set out either a sheet of waxed paper or cooking parchment paper on the table.

Melt the bark according to the instructions on the package.

Dip the nutter butter cookies into the melted bark until the cookies are completely white.

Lay the dipped cookie on the paper.

Get two mini M&M's (I use two of the same color but you don't have to) and put them on one end of the cookie for eyes before the outer shell hardens.
This works best if you have someone to help. One can dip and the other can do the eyes.

Let the candy covered cookies harden.

Remove from paper and put into a bowl or arrange on a plate. Cover tightly until ready to serve.
Return to top of Ghost Cookie Recipe