All About Us
All about us is actually… well… me…, mostly. My name is Sandy Love. I am the main Halloween fanatic in my family. I love Halloween. (Can I say it enough?)
I have been a Halloween lover for quite some time. I had been trick-or-treating since I was young (like most of us).
Back in those days, we would be able to go into strangers' houses that were decorated inside with tables full of food and grab all sorts of goodies and drink hot chocolate.
Back in those days, we could receive apples, popcorn, or cookies in our trick or treat bags and still be able to eat them.
Those were the "gentler" times, I guess. Times have definitely changed.
As I was growing up I was always fascinated with anything gory; scary movies, scary books (Stephen King is THE best), haunted houses, the props, and the makeup. I had this thing that I loved to be scared (provided it was a "safe" scare, of course.)
Then one year for a birthday party, we decided to have a Halloween themed birthday party. (One of the birthdays falls in October, obviously.) All the children and almost all the adults were dressed in costume. I had the house decorated with the usual frilly decorations and a witch's cupboard and with a few outside decorations. All the guests met up at my house and then we went to this restaurant that had a haunted house within it (if you ever heard of Casa Bonita in Denver you'll know what I'm talking about). Everyone had a blast!
That was it! The Halloween bug bit me and bit hard. That was when I became obsessed with Halloween. (It's really not a bad thing, I promise!)
My Halloween fever has been passed on (or, maybe not the fever but some of the fun) to my two daughters, Heather and Amber, and just a wee bit to my husband, Pat. According to him, he can take it or leave it (or as he says, "he would rather be fishing").
I have built this website with you in mind (and it gives me a chance to ramble on and on about our favorite holiday, HALLOWEEN).
I want the tradition of Halloween to be safe for everyone with decorating the house, having parties, and dressing up in costumes and makeup.
I hope that this little "all about us" gave you some insight to, well, all about us. I also hope that this site can help you have the best Halloween experience that we always have.
Sandy's Portrait Studio
2007 at Midwest Haunter's Convention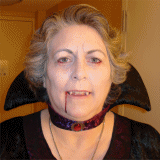 2008 Food Bank of the Rockies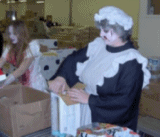 2007 with Scare Factory guy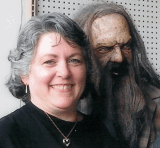 2005 Party