A Teenage Ghost Encounter
by Madison E. J.
(Lexington, Kentucky)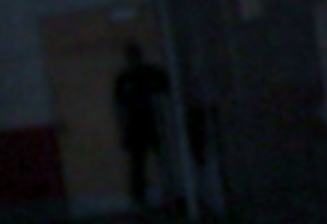 I thought I would share an odd occurrence with you because I was reminded of it this morning while on the phone with my friend that all this happened to. She is one of my oldest friends, Lisa (although my nickname for her was Pee Wee cuz I could make her laugh so hard she'd wet herself! lol). Anyhow, I was always having sleepovers & bringing my friends over for the night, etc...& this one night, as I stated above, is one Lisa can't forget & still brings up on occasion. This encounter happened when I was 15 & Lisa was 16 & I know this cuz she'd recently received her driver's license & that was a BIG deal to us!

Now to begin, my bedroom was sunshine yellow. It was very cheerful & sweetly decorated, but I never felt alone in there - even when I had the door closed & locked, I still felt like I was sharing the room with someone & many of my friends had mentioned feeling like they were being watched. It wasn't a scary feeling, just a little unnerving sometimes. Ok, back to the story...

Lisa was going to sleep over at my house this night & so after playing games, watching music videos, popping buttered popcorn, drinking cokes & prank calling a few guys from school we thought were hot, we decided to go to bed. It was around 2am & I fell asleep soon after my head hit the pillow & when I'm asleep..I am DEAD until waking!

So, Lisa said she laid there for a little while & realized she was still too wound up to sleep, so she turned on the little nightstand lamp beside my bed & began flipping through magazines. She said not long after, she feels the bed push down, like someone sat down on it. She doesn't panic. She thinks maybe I must have shifted in my sleep & she just didn't realize it, so she goes on about reading. Then, she says she notices that I begin mumbling & running my hand over my face like I "was trying to remove a stray hair that had blown into my eyes" is how she put it. She begins studying my face now to see if there was something on it & she said I started pushing at the air & moving my head to the side like someone was touching my face & I was trying to make them stop. OMG!! This still really creeps me out to know this was happening & I was asleep & not aware of it. What really messes with me is how many other times had this happened during the nights & I didn't have a friend there to witness it??

Still, Lisa sees nothing & is about to just chalk it up as me having a crazy dream, then she says she hears a man's voice, mumbling...& suddenly she is cold like someone had opened up the window to let the frosty wintry air in from outside. She is panicked now! She is looking around the room & she can't see anything, so she bounces across the bed & runs over to my bedroom door & switches on the main light & floods the room in it & begins to look around. She said she grabbed my softball bat that I had always at the ready cuz I played ball daily & so, she went about trying to find the source of the "voice" she said she heard, but couldn't quite make out what it said. She checked my closet, she opened my bedroom door & checked the hallway & she leaves my bedroom door open cuz she said she felt like if anything was in the room with us, she wanted a quick exit point. Smart girl! lol Then, she said she turned off the main light & crept over to the windows & peeked out from the corners to see if maybe someone was out in the yard, maybe even catch a burglar that hadn't realized anyone was awake in the house.

She again found nothing. Not knowing what else to do, Lisa came back to bed with the trusty bat that she said she tucked securely between us in case we needed to "do some damage" as she put it. Now, remember I am still sleeping through all of this & I say to remember cuz in all the years since this day, Lisa hasn't let me forget once that I slept through the weirdest night of her life!

I guess she must have decided she was crazy or she just became tired, cuz Lisa said she finally turned off my lamp & pulled the covers up over her for some sleep. She laid there for a few minutes & was startled when she heard a noise in the hallway only to be relieved when she realized it was my mom going to the restroom. She thought she'd tell mom about the weird occurrences once she came out, so she sat up in my bed & waited for my mom to walk back by. She heard the water turn off in the bathroom, the door open & the light switch turn off, then my mom appeared in the hallway in her night gown & was walking back across the doorway when Lisa said she was about to yell for my mom, she saw a young, slim, teenage looking boy with black shaggy hair, a white button down long sleeved shirt & dark pants (that she referred to as jeans), but she said he was cut off at the knees & was literally FLOATING behind my mother as she walked back to her & my dad's bedroom!!

I'd ask her later what he looked like & she said she saw flesh colors for his hands & face, but no facial features...spooky! Btw, she doesn't even tell my mom she is being followed by this ghost & I still pick on her to this day over that! lol She promises she tried to wake me up, but as I stated above, once I am asleep I am out, so waking me up wasn't an option at this point.

Let's just say that Lisa doesn't sleep that night, so by the time I wake up the next morning, she is looking rough & still clutching the bat that I have no idea why she's holding cuz 1. I slept through it all & 2. If this was a ghost, what physical bodily damage could a bat do him anyway? He's already dead! lol Anyhow, Lisa is looking like she's "seen a ghost" & she begins telling me all about it - completely freaking me out, but no matter how badly I freaked out, it doesn't even compare to how freaked my mom was when we told her about in that morning at breakfast! OMG! It still kills me to this day to remember what my mom asked after finding out about all of this...she says "Oh dear, do you think "he" watched me pee???!!!!" LOL!!!!!! Gotta love my mom! Now, when we refer to this story, we call the ghost "Mom's bathroom buddy". ;)

A little piece of extra info is that Lisa never spent the night at my house again. Ya blame her?

FOOTNOTE: A couple of years after all this happened, my mom & dad were talking to an old couple that had lived on that street for many years & they told my parents that in the 1970's a family that had lived in our house had lost a tall, lean, black haired, early twenty-ish aged son to the Vietnam War. I'm not sure if he was or is mom's "bathroom buddy" but I do know that I was sleeping in his former bedroom. Creepy, eh?